Two weekends back myself, Russ, and Lez attended a masterclass with multiple Slayer Sword winner, and general all round lovely bloke Sproket (David Soper). If you're not a follower of his blog: Sproket's Small World you absolutely should be, it's one of the best on the net, and is a constant source of awe/inspiration for me.. even if I don't plan on spending 200days painting the same model any time soon :D.
The main emphasis of the class was on the Stippling technique, which David's taken to the next level with minis such as these (in chronological order, you can see him leveling up his skills over the years).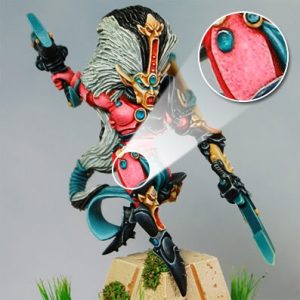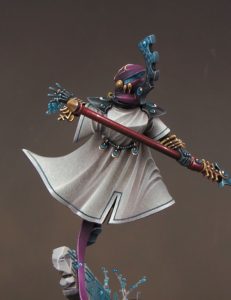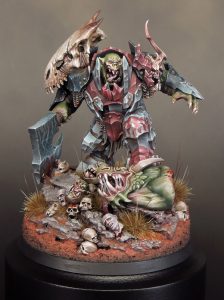 As far as I'm concerned that's some God-Level stippling, here's the mini which the class was using (Scale 75's beautiful Abyssal Warlord), with David's work on it.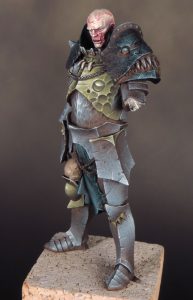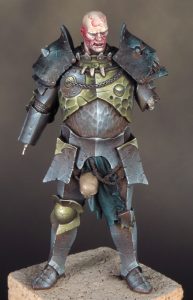 And here's the various stages I went through in the class: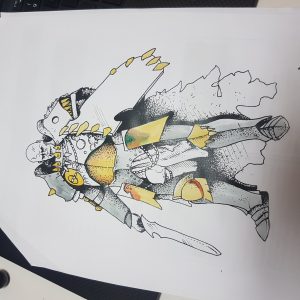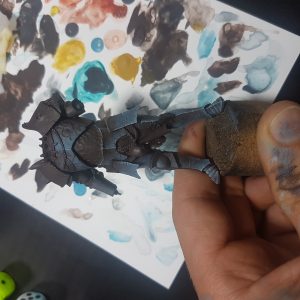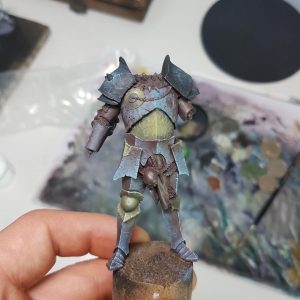 And where I got to at the end of the class – the 'Black Metal' shoulderpads were incredibly difficult, I genuinely struggled with them, Gold was O.k, but a lot trickier on smaller sections.
I will most certainly be going back to any Masterclass David puts on, the experience was incredible, and really got my hobby mojo pumping!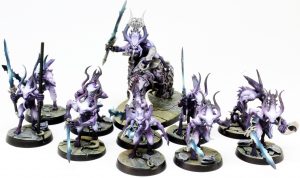 This is the army I'm working on currently, I'm not sure exactly how I'm going to pull David's teachings in, but they're most certainly going to make it – any suggestions please let me know!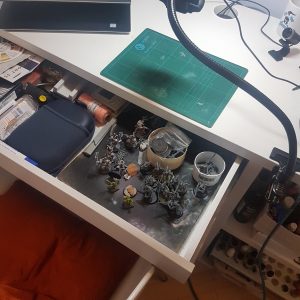 Scraping the faces from the Bletters and smoothing off joints is very time consuming.. so I reconfigured my desk to allow me to whip out a tray of them at a moments notice. Hopefully with due-diligence the 10minutes here and there should add up, and I'll have 50more of them prepped and ready for painting in no time.
My next batch will (probably) be a 20, with this out of the way, the recipie/sequence nailed down and recorded I can embark upon the slog of doing a 30 batch, which will be an almighty one. There's a good chance that I do the first 4/5stages on all 30, then break them down into 10 or 5 sets to get across the finish line, as tasks like dotting their dots take 10minutes per mini and are *completely* horrific and mind numbing!
You may notice that I have a couple of Bloodbound chatacters started, I'll be able to use them to break up the batch-production monotomy, and keep myself sane!
Byron