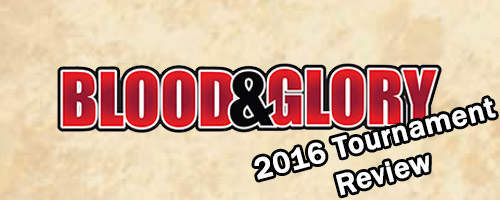 Blood & Glory Coverage
Welcome to the show!
Welcome to the show! In this episode we try a new format for our coverage of Blood and Glory 2016. We focus more about our lists and how we found using them at the event with discussion of our gaming experiences as well as discussing changes we would make to the list in the future. We had all 4 grand alliances between us so should be something for everyone.

Sit back and get ready to some hammer to your face!
Enjoy!
Show notes & links
Russ Veal – Beastclaw Raiders
Frostlord on Stonehorn – General – Trait: Bellowing Tyrant – Artefact: Talisman of Protection (460)
Huskard on Stonehorn – Artefact: Battle Brew (380)
Mournfang Pack x 4 (400)
Mournfang Pack x 2 (200)
Icefall Yhetees x 3 (120)
Stonehorn Beastriders (360)
Eurlbad Formation (60)
Total: 1980/2000
Byron Orde – Death
Abhorrant Ghoul King (100)
Vampire Lord On Zombie Dragon – General – Vampiric Sword & Shield & Chalice – Artefact : Cursed Book – Command Trait : Ruler of the Night (440)
Morghast Archai x 4 (480)
Zombies x 10 (60)
Skeleton Warriors x 10 – Ancient Blades (80)
Skeleton Warriors x 10 – Ancient Blades (80)
Skeleton Warriors x 10 – Ancient Blades (80)
Mourngul (400)
Reinforcement points (280)
Total: 2000/2000
Terry Pike – Chaos
Kairos Fateweaver (300)
Great Unclean One – General – Chaos Runeblade – Cunning Deceiver (240)
Sayl the Faithless (160)
Plaguebearers x 10 (100)
Plaguebearers x 10 (100)
Plaguebearers x 10 (100)
Stormfiends x 6 – Warpfire Projectors (600)
Warp Lightning Cannon (180)
Warp Lightning Cannon (180)
Total: 1960/2000
Les Martin – Sylvaneth
Treelord Ancient – General – Oaken Armour – Gnarled Warrior (300)
Spirit of Durthu – Oaken Armour (400)
Branhwych – Acorn of Ages (100)
Dryads x 10 (120)
Tree-Revenants x 5 (100)
Tree-Revenants x 5 (100)
Kurnoth Hunters x 6 – Scythes (360)
Kurnoth Hunters x 3 – Great Bows (18)
Kurnoth Hunters x 3 – Great Bows (18)
Gnarlroot Wargrove (80)
Household (20)
Free Spirit (40)
Total: 1980/2000
Warhammer TV Blood & Glory Stream