FHGT2018 Tickets Available Monday 16th 12:00 BST!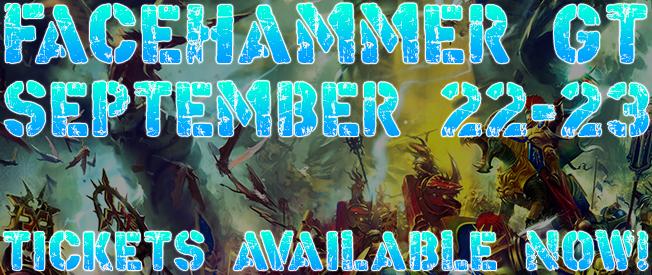 Please see details in the pack below – Event is held at Element Games in Stockport.
On Friday 21st there will be open gaming as well as a paint and hang out area, the guys from the podcast will be on hand for hobby advice. You can also register early for the event and get some practice games in! The bar will be open and drinks flowing!
Saturday and Sunday sees the main event a 5 round 2000pts AOS tournament, We will also be hosting the popular painting competition on Saturday evening with winners announced during the awards on Sunday.
There will be seminars on the Saturday evening (we will announce details closer to the time) which will also be covered for attendees and will have 2 elements, one hobby and one with a gaming focus.
Lunch will be provided both days and all entrants will receive a goodie bag with some Facehammer merchandise and an Element Games voucher to use in the store.
Please see the rules pack for details or contact the event team if you have any questions (details in the pack!)
We hope to see you there for the Facehammer GT2018
Entrants List
1 "Awaiting Player Name"
2 Aaron Walters
3 Adam Clark
4 Alan Witherden
5 Alex Bruce
6 Alexander Jones
7 Andy Bryan
8 Andy Talbot
9 Andy Woods
10 Arthur Treitl
11 Ben Diesel
12 Benjamin Savva
13 Bryan Carmichael
14 Carl Smith
15 Chris Mills
16 Chris Tomlin
17 Colin Cochrane
18 Craig Chesters
19 Craig Moore
20 Dan Heelan
21 Daniel Ford
22 Darran Palmer
23 Darren Watson
24 David Griffin
25 David Kane
26 David Neagle
27 Dean McLaughlin
28 Dominic Hook
29 Donal Taylor
30 Forrest Wilhoite
31 Graham Shirley
32 Ian Spink
33 Jack Mayland
34 Jack McQuiggin
35 Jacob Berr
36 James Boots
37 James Chalmers
38 James Eveleigh
39 James Hyde
40 James Box
41 James Tinsdale
42 James Warth
43 Joe Purcell
44 John Dorrian
45 Joseph Urban
46 Karl Breakspear
47 Karl Wadley
48 Keith Ball
49 Kieran Harper
50 Lawrence East
51 Lee "Tuggy" Kay
52 Liam Watt
53 Mark Busby
54 Mark Mitzman
55 Matt Clarke
56 Matthew Croad
57 Matthew Lyons
58 Mattnew Arnold
59 Michael Browning
60 Michael Wilson
61 Mike Callaghan
62 Mikey T
63 Miles Hewitt
64 Nathan Foster
65 Nathan Watson
66 Nicky Martin
67 Nige Chorlton
68 Paddy O'Sullivan
69 Pano Kyprianidis
70 Patrick Rance
71 Paul Berridge
72 Paul Buckler
73 Paul Haley
74 Paul Rea
75 Paul Whitehead
76 Peter Bradley
77 Reece West
78 Ritchie McAlley
79 Rob Ellis
80 Robert Crouchley
81 Ronnie Dodd
82 Russ Ward
83 Sam Davies
84 Samuel Watson
85 Scott Smith
86 Shane Forde
87 Shane Hurley
88 Simon Holmes
89 Simon Speccles
90 Steve Sanderson
91 Tim Holbrook
92 Tom Fildes
93 Tom Hewitt
94 Tom Lees
95 Tom Mawdsley
96 Tom Mclure
97 Tony Moore
98 Wayne Kemp
99 Will Philpott
100 William Morriss