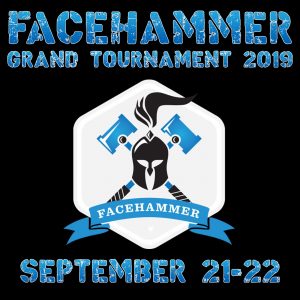 FHGT2019 Introduction
Welcome to the fourth FaceHammer Grand Tournament, a Match Play, 5 Game Age of Sigmar event run at
Element Games Northwest gaming centre.
Following on the success of the last 3 years, we want to provide a great tournament experience for all
attendees. Although demand is very high for spaces we feel keeping the event to 100 max is best way to keep
the atmosphere of the previous events. last year we introduced a more hobby focused scoring system to
encourage players to bring nicely painted armies and play the game in the right spirit of Age of Sigmar and we
decided to continue with this in this year's event!
Click here for the event pack

Check out the photos from last year in our facebook album